A portion of registration fees for the May 27 conference to be donated to Food Banks Canada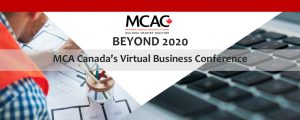 The Mechanical Contractors Association of Canada (MCAC) is hosting the association's first-ever virtual conference on May 27, providing a full-day of sessions in an online event-platform. Themed "Beyond 2020," the conference program will have sessions focusing on the future of the industry, training, new technologies, and how federal and provincial programs will address the post-pandemic landscape.
"As an association, we are very excited to be hosting this first-of-its-kind conference to provide some unique and exclusive programming for our members," said Tania Johnston, MCAC Chief Executive Officer. "So much of our education of late has focused on the COVID-19 pandemic. Instead, this program will provide a lookahead at what our industry might look like beyond the pandemic and beyond 2020."
Registration for MCAC members is $150, with $50 of those fees being donated to Food Banks Canada. As well, $100 will be applied to any future MCAC Annual National Conferences should attendees wish to attend. All attendees will also be provided a subscription for the remainder of the year to the Construct Connect Forecaster Monthly Newsletter.
Attendees to the conference will be provided a login to view all sessions throughout the day, as well as have access to the recordings of the sessions post-conference. The program will begin at 10:30am Eastern, and finish at 5:00pm Eastern.
"We are very happy with the program, and believe it provides some great insight into a variety of important topics," added Johnston. "Our ultimate goal is to engage our members on what the future of our industry might look like, and to dialogue about some of the important issues we should prepare for as an industry."
The conference program will begin with provide an economic outlook from Construct Connect, and follow with sessions on federal/provincial advocacy, new technologies to assist with business growth strategies, virtual skills training, and a session on BIM and modularization.
More information can be find on the MCAC website, and registration is available online at https://pheedloop.com/register/beyond2020/attendee/.