Richard McKeagan Scholarship Series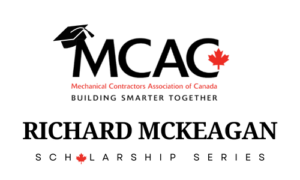 Application Process will Open in Spring 2023!
To emphasize the importance of education and our desire to have post-secondary graduates, as well as current undergraduates, enter into the mechanical contracting industry, the Construction Education Council in partnership with MCA Canada Associate Members have established the Richard McKeagan Scholarship Series, recently renamed to recognize the work of the Association's past-CEO.
Basic Eligibility Requirements for the Richard McKeagan Scholarship Series:
Must be a Student Chapter Member or child/ward of salaried employee of MCAC member company (company needs to be member for at least one year)
Applicants must be enrolled in a full-time post secondary program leading to a degree, certificate, or diploma from an accredited Canadian university, college or apprenticeship program, with a minimum "B" average for the previous year.
Applicants may also be a registered apprentice in a mechanical contracting trade.
Must not otherwise receive a major scholarship or bursary
List of available scholarships for 2023 coming soon!
2022 Scholarship Companies
Bradford White Canada
EquipCo Ltd.
Federated Insurance
Masco / Delta
MCA Hamilton Niagara
MCAC Associate Members
Mitsubishi Electric Heating & Cooling
OS&B
Palser Enterprises Ltd
RWC
ServcoCanada
Taco Comfort Solutions
Uponor
Watts Water Technologies
Women in Mechanical Construction (WiMC)