Our National Charity of Choice
The ALS Society of Alberta
Each year, the MCAC Board of Directors selects a Charity of Choice, and encourages members from across Canada to help support this important cause. Previous Charities of Choice have included Operation Eyesight, which saw more than $25,000 raised by MCAC.
In 2019, MCAC President Jack Bavis and the MCAC Board of Directors announced the ALS Society of Alberta as the charity of choice for 2019, in honour of past MCAC President David Flamand's sister Patsy Brooks.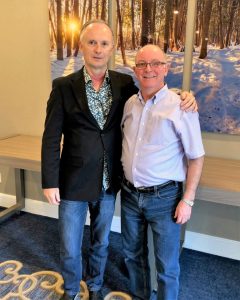 The ALS Society of Alberta is a non-profit organization dedicated to making each day the best possible day for people living with and affected by Amyotrophic Lateral Sclerosis (ALS). It is the only non-profit organization in Alberta that provides support to those affected by the disease, and is the largest donor per-capita to the national ALS research program.
Their mission is to make each day the best possible day for people living with and affected by ALS.
They achieve this by:
providing support
facilitating the provision of care
promoting awareness
helping find a cure
advocating for change
To help contribute, visit the ALS Society website, or contact MCAC. 
"Today brought out a lot of emotions for me. I hope we can raise some extra money this year for this very important cause. The ALS Society is an extremely important foundation, and I want to thank MCAC for this decision."
FROM THE FAMILY OF PATSY BROOKS:
"Our Mom, Patsy Brooks, was diagnosed with ALS late November 2016 and passed away with family and friends all around her on March 24, 2018.  Even though her fight was short, Mom fought hard for her independence and stayed true to her belief that having family & friends close are important in the process of dealing with anything life altering like this disease. Only with the support of the Alberta ALS Society was this all able to come true.
My Mom, my Dad & our entire family always felt that our voices were heard when we had questions for our support staff, and for us, the most important part in our family's ALS journey was having the ability to phone & ask for all types of equipment that would enable Mom to stay home right up until her last day. We could not, we would not have been able to follow through with Mom's wishes of staying in her home, to try to keep some 'normalcy' for her grandchildren and for allowing friends and family to always be with her, if the Alberta ALS Society was not there to support us. They truly walked beside us through the entire journey.
We will be forever grateful to them for their equipment lending program, their coffee time meetings, their house visits and simply their shoulders to lean on when needed. On behalf of my Dad, my brother and our entire Flamand Fighters family we are so humbled that the MCAC has picked the Alberta ALS Society as their Charity of Choice for 2019 and we thank you from the bottom of our hearts for your financial support and for helping us to give back, in honour of my Mom Pat Brooks, to a Society that gave so much to us.
#ItMatters"