Estimating Conference: Project Procurement and Strategies Calgary
February 16
@
8:00 am
–
February 17
@
5:00 pm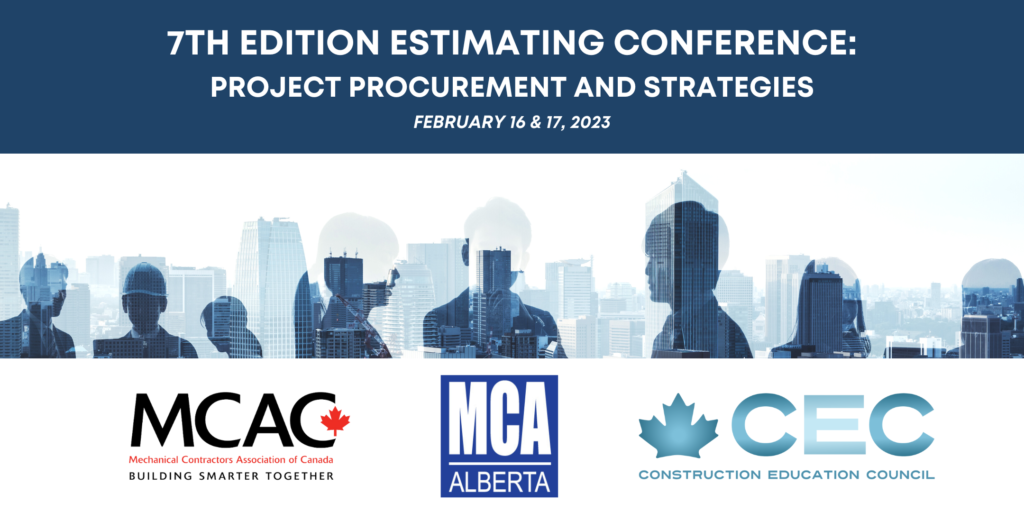 WHO SHOULD ATTEND
Company Presidents and Owners, Vice President of Estimating, Chief Estimator, Estimator, Project Managers who also estimate, or anyone responsible for estimating and procurement of work.
EARLY BIRD COST
MCA Members ~ $1,195 (Regular $1,395)
Non-Members ~ $1,595 (Regular $1,795)
CONFERENCE SPEAKERS
JACK WILHELMI
John (Jack) B. Wilhelmi is President Emeritus of the Omaha Division of The Waldinger Corporation. Wilhelmi has served Waldinger for forty years, the first ten years as VP of Estimating and the last thirty as a Division President. During the last year as Vice President of Estimating, he supervised the bidding of over one billion dollars of mechanical work (present day dollars). Wilhelmi is a past President of the MCAA having served as its National President in 2008 and 2009.
TIM WENTZ
Professor, University of Nebraska Professor Wentz graduated from the University of Nebraska with a BS degree in Mechanical Engineering and a Master's degree in Business Administration. He then went on to work in the family mechanical contracting firm. He spent 19 years in the industry, before entering academia. Wentz has received numerous awards for his teaching and service to the HVAC industry including the Distinguished Service Award, MCAA's highest award and he is the current past President of ASHRAE.
DAN LEDUC
Partner, Norton Rose Fulbright
Mr. Leduc practices primarily construction law and commercial litigation. Within construction law, he is frequently called upon to advise and represent owners, engineers, subcontractors, suppliers and builders in such front-end services as contract review, tender issues and general construction matters, as well as in litigation and arbitration.
CONFERENCE LOCATION
#204, 2725 – 12th Street NE Calgary, Alberta T2E 7J2
HOTEL LOCATION
The Royal Hotel is well-known for its commitment to comfortable and quiet lodging, fresh and delicious food, and impeccable and friendly service. All guestrooms feature a luxurious pillow top mattress, flat screen TV, large work desk, Keurig brewing centre with complimentary coffee and tea, opening windows, mini fridge and microwave. Complimentary shuttle to and from the airport, hi-speed internet, local calls and parking are included during your stay.
Royal Hotel Calgary
2828 23 St NE, Calgary, AB T2E 8T4 | 403-291-2003
Hotel Accommodations: Monday to Thursday
Deluxe Queen: $111.00 + 15.54 % GST
Standard King: $115.00+ 15.54 % GST
Executive King: $138.00 + 15.45 % GST
Hotel Accommodations: Friday to Sunday
Deluxe Queen: $127.99 + 15.54 % GST
Standard King: $134.99 + 15.54 % GST
Executive King: $154.99 + 15.54 % GST
Check in: 4:00 PM
Check out: 11:00 AM
Reservations are made through the toll free reservation line at 1-877-769-2562 or through the Front Desk at 403-291-2003. The group name is "MCA Alberta" which will need to be given when making a reservation.